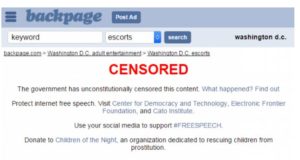 Chalk up another victory for the moral crusaders. From the Washington Post:
[rau]
Backpage.com abruptly closed its adult advertising section in the United States on Monday, saying years of government pressure left it no choice but to shutter its most popular and lucrative feature.
You can read the full article here.
The article lays it out pretty well, and I suggest you read it. It should come as no surprise that I lament the closing of Backpage's adult section, but I have no say in the matter. I suppose it could lead to a revival of the local tabloids whose 'back page' was the inspiration for the website's name. But it certainly will make life more difficult for sex workers and their clientele.
The United States, for all its posturing of being the land of the free, is a very Puritanical place. Politicians and others have made their careers ranting against sex of any kind. Margaret Sanger, pioneer contraception advocate, was jailed in 1916 for distribution of literature about contraception. That was 100 years ago, but the same moral crusaders are still hard at work, and they are still successful at times, as in this instance.
Thankfully, men are, so far at least, allowed to travel to other countries not run by the Neo-Puritans. I have lived in two and visited others. I feel sorry for those whose situations prevent them traveling to freer societies than the so-called 'land of the free.'
I'd write more but I have a date with a local chica who advertised on internet.
[adrotate group="2″]