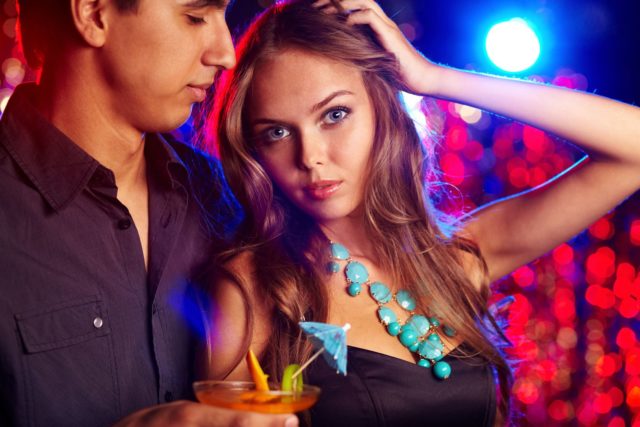 Once, very early in my San Jose years I dangled my feet, so to speak, in the 'novia' trip. It seemed reasonably appealing at the beginning, as such things do, but after a while, I bailed. Bailing seemed like the thing to do at the time and I have no regrets. The only thing that puzzles me is why I even bothered. But that's what this post is about.
[rau]
She was a stripper whom I met very shortly after I had moved to San Jose and after I had discovered Arcadas night club. Melissa was a dancer there whose long legs and face that reminded me a little of Julia Roberts enticed me to pay the price of admission to go upstairs with her and see what sex might be like with her.
To make a long story short, it was good. She seemed really 'into' it and was very affectionate in ways you don't generally expect. I was new in town and still had a bit of the gringo mindset that the best way to get steady sex was to have a girlfriend. So I got her telephone number and we set up a date. The date went fine and she seemed to be very quiet and sincere. One thing led to another and after a short time we were 'novios.' All in all this wasn't all that different from a North American romance, except it started with paid-for sex and the dating came after.
It didn't bother me that she was a stripper and a sex worker. It's probably a peculiarity of mine that I don't seem to possess the jealousy gene. Perhaps in the back of my mind I thought that if things went well we might move in together at some point and she could stop working, but I was in no rush to 'take possession.'
Like most 'relationships,' there were early signs of things that would become problematic later on, once the initial attraction mellowed down. One item was the fast that she had two children. The kids were pretty nice and old enough not to be overly demanding. But eventually I knew they would present some issues, even if the issues were minor. But the real deal breaker that I ignored at first, was something somewhat petty but important to me. Simply put, her breath smelled bad. She smoked, and she wasn't overly diligent about dental hygiene. Our final time together was an overnight trip we made down towards the Caribbean coast, and sleeping with her I had the full force of the unpleasant odor coming from her mouth.
Now, I suppose I could have tried to get her to brush her teeth and quit smoking, but as I examined my own feelings, I just didn't feel that much for her. We didn't have much in common other than sex, and as anyone living in San Jose will tell you, sex is not a hard-to-come-by commodity. I decided I couldn't continue, and after an awkward breakup, that was that.
Since then I have been tempted by some unusually attractive and lustful lady, but I have dodged those bullets and remain dedicated to sharing my 'love' with numerous females. And I could live to be 300 and never run out of options. God Bless Latin America!