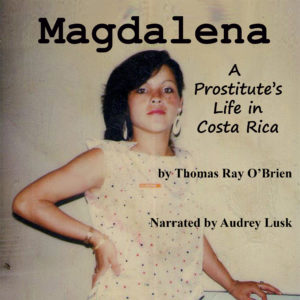 When I left San Jose, headed for Medellin, I was driven to the airport by Magdelana's son, the convicted murderer, accompanied by Magdalena. I have a nice picture of Magdalena and I together for the last time, standing outside the door to the departure area. I won't put it here out of consideration for Magdalena's privacy and my own. But it's a nice picture and it gives me a good feeling to look at it.
Our "relationship" was primarily friendship. We would go out drinking and sometimes dancing together. She didn't charge me for sex as such, but I did give her money when she needed it and paid for the beer when we went out. But more than once, she told me that I was her best friend, and I thought it was more or less true, as far as it went. She knew a lot of people and got along with almost all of them, but friendship among aging prostitutes and the rest of that subculture is always constrained by poverty. Although many or even most of these 'girls' had  done pretty well in their heyday, those days were well passed and the best the could usually do was among long time clients and cheapskates who were willing to overlook wrinkles and flab to save a few dollars.
The 'girls' who had been lucky enough to have a child or two who had some steady income could usually depend on help from the family. Magdalena had no such luck. Her son wasn't afraid of work but also had a tendency to make babies which put first call on what money he earned, along with the baby-mama(s). She had one daughter who had a steady job but they hadn't spoken to each other in years. The other daughter had a giant family and no money or room to spare for mama. Magdalena's mother was equally fertile, and had nothing to spare for Magdalena. Since she wasn't one of Juan's offspring, she was a second class daughter.
So Magdalena had to keep working. She kept her slim figure, thanks to not having much money for food and a taste for cocaine. But the face shows lots of miles now and her old steady customers keep dying off.
I had floated the idea of her joining me here in Medellin. I had room for her and feeding her costs next to nothing, plus she's an excellent housekeeper. Unfortunately, the only way she could get residency in Colombia is as my 'domestic partner,' which she can't do because she is still married to the Cuban guy. I tried to help her look into getting a divorce, but it became apparent that she didn't want to bother. So the plan was abandoned and it's very unlikely we will see each other again.
Just to tie up a few loose ends from the book, she has now become a great grandmother and her own mother has died. She is quite fond of her great-grandson, and I'll admit he's a cutie.
I don't know what's in store for Magdalena, but I can't let myself worry more about her future than she does herself.