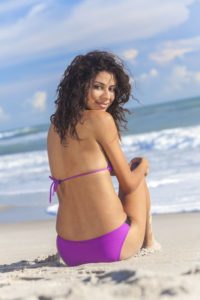 The young lady came highly recommended. She had received more than one positive review on a discussion site, and the photos I saw on her online advertisement were quite appealing. So I decided to call her and arrange a 'date' last Friday afternoon.
[rau]
I called her and we set a time of four in the afternoon. She then sent me her address by way of Whatsapp. I now had it on my telephone. I checked with Google maps, and they laid out the route I should take to get there. It would take me about an hour, all told, so when the time came, off I went. I walked to the nearest Metro station and took the metro to where I would catch a bus that would take me close. So far so good.
I got off the bus where I was supposed to, according to Google. But although the bus stop was the right one, I still had to get to the actual apartment. Now the 'fun' began.' It's actually possible to navigate Medellin via addresses, and I figured I was about 5 blocks away. I figured wrong. I did not account for how fond the city is of adding a letter to a street or avenue number. I had to go through several sequences of Street ##a, ##b, ##c etc, ending up going at least 10 blocks where I though 5 would get me there.
By the time I got to the address where I thought the lady was waiting, I was fifteen minutes late. But I was bitten again by the a, b, c, thing again. I had two different people look at the address on my phone to help me get to the actual address, which took another fifteen minutes. I had called the lady early on to say I was on my way but lost. I tried calling again, but got no answer. I finally found the place, but nobody inside seemed to be expecting me. Finally, a very sexy chica let me in, and led me upstairs to another very sexy chica, who took me by the hand to a bedroom. Since the pictures didn't show a face, I had to ask the girl if she was who I made the date with. She wasn't. My 'date' got tired of waiting and split. On the upside, I could see through her skimpy lingerie that this girl ALSO had a smoking hot body.
I bit the bullet and plowed ahead.