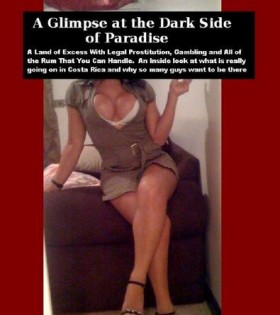 A Glimpse at the Dark Side of Paradise by Adam Benton is a collection of real stories taken from the bars and night clubs of the gringo gulch in San Jose, Costa Rica. Ask any expat who has lived in downtown San Jose, and you will recognize the stories, told by a real person who ended his trip to Costa Rica with a knife in his neck.
The book starts with an experience in Jaco, getting overcharged at a night club and having his friend create a distraction; standing on the bar and imitating a parrot. During the noise and confusion Adam absconds into the rainy night.
In another story, a friend looses his stack of cash, and blames his two girlfriends for the theft. They both readily agree to leave the apartment without getting paid for their romantic tryst. Turns out they were thinking the other has the cash and they are going to split it. The next morning, the man find the several thousand dollars under his dresser.
[rau]
A Glimpse at the Dark Side of Paradise is not much of a romance novel. Adam's stories are about the life experiences of an under 30 expat, living in Costa Rica over the course of a year or two.
Adventures of an affluent Englishman and the devil's dandruff
Romance between young Colombian and expat ends in a week of jail time
Good girl goes off her meds and police tip themselves
Irishman calls the quits for bar after one bribe too many
Mystery girl from the Nashville Bar
Gringos business owner gets deported
[rau]
Although it's far from a guide book, included are the names of real places. Adam dedicates the book to Harry Hart, owner of the Antiguo Poas Bar and Restaurant in San Jose. Priced at just $4.99 in Kindle ebook format, A Glimpse at the Dark Side of Paradise is a great read for anyone who enjoys partying in Costa Rica.