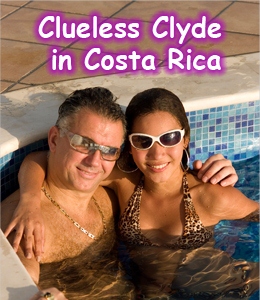 Recently divorced and pushing fifty years old, Clyde was lured to Costa Rica after hearing about a hot Tica named Vanessa. His first adventure with her, along the Pacific coast is one of the most exciting experiences of his life. Soon Clyde is coming back, again and again to Costa Rica.
Cluess Cylde is an especially good read because it rings true. His experiences, are not all wine and roses and along with the mistakes there are many distractions. Clyde is clearly falling for the women of Costa Rica, despite the red flags and warning signs.
[rau]
Clyde soon makes all the usual mistakes. For example, observe the classic RFM (request for money).
"My love!   I am so glad you can help me. You can send the money by Western Union in San Jose. My full name is Maria Gonzales Calderon and my cedula # is 444 55 5 5. I use the name Vanessa when I work as an escort. I really would love to get out of this business and find a good man, a man like you. But I am just dreaming. Western Union will give you a confirmation number and when you get it please email me the number so I can get the money. With all the problems, I really need at least $ 300 so we don't have to move out on the street. I hope you can get that to me soon. I promise to make it up to you when you come visit me again. I hope you come see me again soon, I really miss you.   Big Kisses and hugs,   Vanessa/ Maria"

O'Brien, Thomas Ray (2013-05-01). Clueless Clyde in Costa Rica (Kindle Locations 657-663). Lovecostaricastyle.com. Kindle Edition.
Written by a real expat with more than seven years in Costa Rica, Thomas Ray O' Brien paints a picture of a person we all know. Cluesless Clyde is that guy sitting across the bar or even looking back in the mirror.
[rau]
The book is a must read for anyone who thinks they could fall in love in Costa Rica, or just wants to be entertained by the mess that expat gringos can make of their lives in Latin America.