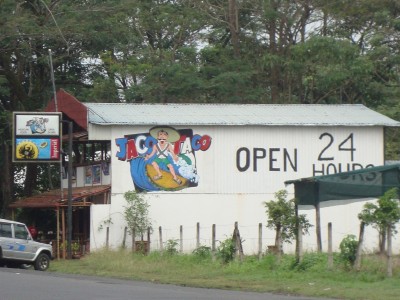 Apart from a reputation for tasty tacos the bar and restaurant at northwest end of the main drag in Jaco is the place to have a late night drink. Jaco Taco is open twenty four hours a day, however has recently cut off the bar service at 3am.
Menu includes breakfast Gringo, Tico and Mexican style along with an impressive selection of Mexican enchiladas, tamales, fajitas, carnitas, chilles, and shrimp. An air conditioned restroom is simply heaven after a long hot day of walking around town or partying in the heat on Jaco Beach . Wi-Fi Internet access also makes Jaco Taco a nice place to get caught up on late night email.
Rumor is that Jaco Taco is where all the pretty people from late night at Le Loft go for breakfast.
[book-guide-jaco]