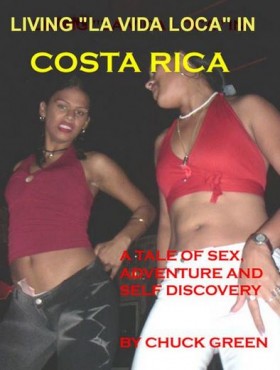 Living La Vida Loca in Costa Rica is the story of a retired account on the lam from the IRS who grows bored with Oaxaca, Mexico and is attracted to San José, Costa Rica by fast women.
The book could just as easily be titled, leaving Oaxaca. It opens with a teaser about Costa Rica, scenes from the Del Rey Hotel in Costa Rica, and then there are a couple chapters about Chuck's life in Mexico.
When we get back to Costa Rica, Chuck makes friends with a hot Dominican at the Del Rey and then he is off to Jacó Beach.
[rau]
Everywhere he is chatting up expats, and tells the story of the Luis Milanes and Villalobos high interest operations that went bust. After giving us the lurid details of some of his encounters in Jacó, Chuck finally settles down in an extended stay apartment in San José.
Sleazy would bring down enough electric sex toys with him to cause a brownout in the city if he ever tried to use them all simultaneously.   Fino, a dedicated monger, had the reputation of being so picky that he would hunt for days trying to find a chica that suited his taste. Last I heard he was in Rio searching for the perfect "bunda".   And there were dozens more. I came to think of these guys collectively as "The Homeboys"

Green, Chuck (2010-12-22). Living La Vida Loca in Costa Rica (Kindle Locations 1977-1982). Monger Publications. Kindle Edition.
Chuck Green has no shortage of stories, which include both his own detailed encounters and those of his fellow mongers. Although the book is starting to get a bit dated, many of the circumstances would be the same today in Costa Rica.
[rau]
Living La Vida Loca in Costa Rica is a great read for anyone who thinks they would enjoy mongering in Costa Rica or misses the gold ol' days.