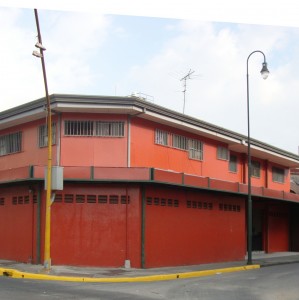 Molino Rojo is large red building on a corner of downtown San Jose that is named after the famous Moulin Rouge in France.
The party continues until 5am, and it is best to arrive after 9pm. Only rarely are dancers on the small stage, but the line up of talent is usually diverse. There is usually a cover charge at the front door, but this gets a ticket to exchange for a drink.
Level of talent at the Molino Rojo has fluctuated over the years. During the boom days of the late 1990s the same girls used to work the Del Rey Hotel.
The location is just four blocks from Parque Central on Calle 2, which borders the west side of the park. Molino Rojo is also next to Arcadas.
Read more about this venue in Five Years in the Rojo.
[book-guide-sanjose]