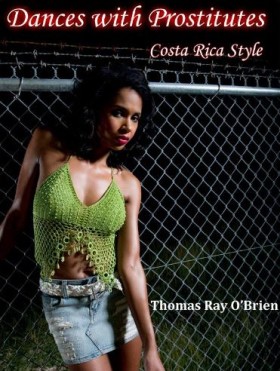 Starting with an introduction that asks if there is life for the single male after age 45, the book is a collection of stories about life in Costa Rica for the average retired American expat. Written by expat, Thomas Ray O'Brien the book is a collection of short stories from his ten years chasing girls in Costa Rica.
The book is part instruction manual and part entertainment as Thomas introduces us to the world of low-rent night clubs in San José. In particular, Las Aracadas and Molino Rojo are real places where dancers strip in between thirty minute sessions with customers in the back rooms for about $30. This isn't anything like your nudie bar in the States where you spend a bundle without getting laid. Since Thomas lives in Costa Rica he is a frequent customer and goes on dates with the girls.
Reading the book is like having several rounds of drinks with an expat in a bar. However, the quality of the stories does not diminish as the night drags on. Many of the stories are one-time events, but a few are repeated attempts to date the same favorites. None of the stories fail to surprise and a few even rate as stranger than fiction. For example, Thomas picks up a gringa with a southern accent, supposedly working at the Del Rey in order to earn money for a sick dog. She ends up coming back to his place and passing out after having too much Guaro.
Unlike his previous series, Clueless Clyde in Costa Rica this book is not a dramatized story of one man who falls in love with an impossible women. Instead, it's the real story of Thomas, who finds it impossible to fall in love with any woman in Costa Rica. In this case, it is not for lack of trying, which the book explains so well.