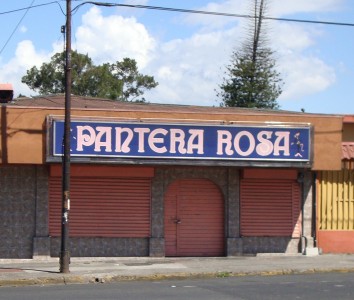 Themed after the character of the Pink Pather, Pantera Rosa is one of the more popular night clubs in downtown San Jose. There is a cover charge of about $8, which includes tickets for three drinks. Onstage action can get pretty hot, especially late on Saturday nights.
Remodeling in 2009 made the club is a bit larger, but came at the expense of the famous private rooms that looked onto the stage with one way glass. A hydraulic lift still brings the girls up to the stage without having to walk among the crowd. The girls, however will come around to hustle for lday drinks, which cost $10. A beer for the customer runs about $3.
Located near to Plaza Viques the club is not far from Le Grillion and Las Margaritas night clubs.
[book-guide-sanjose]