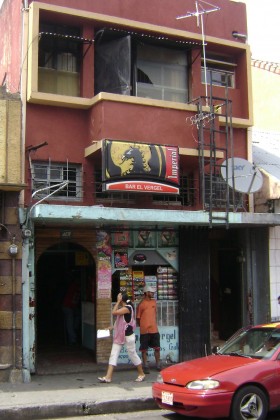 Nondescript pension, located above the Bar Vergal is one of several venues along Calle 6 in the San Jose red zone. Accessed by walking up a narrow stairs the girls crowd the hallway and in a small lounge area just off to the left of the entrance.
There is no sign that says "Paramount", and the only reason we know the name is because a local died of a heart attack here and the name was included in the newspaper article.
Location in a dubious section of town is known as the Zona Roja, and should only be braved by the well-prepared. Not recommended after 3pm, and best avoided on the weekends this is the absolute bottom of the barrel for San Jose. Occasionally there is a diamond in the rough.
Calle six pensions in order are Lilliam, Paramount, Maison and Casa Portuguesa, which is just a block east of the Mercado Borbon.
[book-guide-sanjose]